ENERGY COMMUNITY SUMMER SCHOOL 2017
CONGRESS CENTRE OHRID (FYR of MACEDONIA)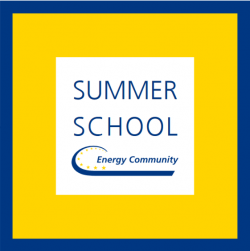 International organization the ENERGY COMMUNITY SECRETARIAT in Vienna invites highly motivated postgraduate students (masters or PhD), researchers from all energy-related disciplines, young professionals from governmental institutions, companies, think tanks and NGOs from the Energy Community Region to the 2nd Energy Community Summer School that will take place in Ohrid from 26 August to 2 September 2017.
The Energy Community Summer School aims to promote the development of participants' competences in all topics related to energy through a dedicated multi-disciplinary programme.
The Summer School is supported by a network of academic and research institutions from the Energy Community and beyond.
The Summer School 2017 is supported by the International Visegrad Fund, the Deutsche Gesellschaft für Internationale Zusammenarbeit (GIZ), Polis University, Tirana and Faculty of Electrical Engineering and Information Technologies (FEIT), Skopje.
Venue:

Congress Centre - Ohrid

,

FYR of Macedonia

Date:
26. august - 2. september 2017
Duration
1 week
Organizer:
Energy Community Secretariat
Host:
Faculty of Electrical Engineering and Information Technologies, Skopje, (FEIT)
Credits:
3 ECTS (for masters students)
Deadline
online only, 31.3.2017
Fees:
No tuition fee is required (participants are covering the travel costs)

SYLLABUS
Building on the previous year (2016 Summer School Syllabus), the 2017 Summer School focuses on energy sectors in transition, in particular in South Eastern and Eastern Europe.
The program will also take into account the broader geographical context in Europe and possibly beyond and will go beyond a mere training programme for energy-related topics. It will allow participants to understand the energy sectors in their full complexity and provide them a platform for exchange and contribution to shaping the sectors' future.
The 2017 Summer School will cover these aspects of the energy supply chain:
scientific,
legal,
economic,
cultural,
political,
technical
It will include both theoretical elements and practical training through case studies and mock cases. The best student and best group work will receive an award.
The Energy Community Summer School programme offers a combination of course work, guest lectures and social / cultural activities. During the training, participants will attend lectures taught by high-level scholars from academia as well as experts and practitioners from leading energy companies etc.
Benefits
Benefits of attending the Energy Community Summer School:
ECTS kredity - the Energy Community Summer School is accredited in accordance with the European Credit Transfer System. Students participating in the Summer School will have a chance to earn 3 ECTS points (Students who wish to receive ECTS credits will need to contact their university. The approval of the credits as well as their exact amount depends on the decision of the students' home institution. Credits will be granted from

POLIS UNIVERSITY

).
Experience abroad - studying in a different country is a great experience and gives the possibility to gain international experience, which is important for the job market etc.
Get to know the countries of the Energy Community, their culture and people in addition to their energy sectors – the Summer School will not only be about academic experience, but will also give the participants the opportunity to get to know fellows from different countries and experience different cultures.
Knowledge outcome – after finalising the Summer School, the participants will better understand the science, policy and regulation of energy markets in transition. They will understand the challenges behind the implementation of European aspects of energy law and regulation and be able to combine different disciplines and approaches underpinning energy-related projects and reforms



COSTS
- Participation in the Summer School is free for all participants (including tuition and accommodation costs in Ohrid).
- Travel costs are borne by the participants.


TARGET GROUP

- Postgraduate students (masters or PhD students),
- Researchers from all disciplines,
- Young professionals from governmental institutions (ministries, authorities and agencies) or energy companies,
- Think tanks,
- NGOs, etc.

CANDIDATE PROFILE

To be considered for admission, applicants must be:
35 years of age or younger (applicant should at most turn 35 years old by the end of the Summer School week),
Fluent in written and spoken English,
A citizen of one of the following countries: Albania, Armenia, Austria, Azerbaijan, Belarus, Bosnia and Herzegovina, Bulgaria, Croatia, Cyprus, Czech Republic, Finland, France, Georgia, Germany, Greece, Hungary, Italy, Kosovo*, Latvia, Lithuania, FYR of Macedonia, Moldova, Montenegro, Netherlands, Norway, Poland, Romania, Serbia, Slovakia, Slovenia, Sweden, Ukraine, United Kingdom and Turkey

SELECTION CRITERIA

Successful applicants will be selected by the Energy Community Secretariat in consultation with a academic and research institution network of the participating countries based on the following criteria:
A short paper (5 pages maximum) in which contemporary pressing energy policy issues shall be presented and briefly analysed, related to one of the following topics (No ranking between the topics will be applied; therefore candidates are invited to choose a subject that is closest to their field of studies or research):

economic implications,
technical issues related to energy generation,
political implications and energy diplomacy,
legal aspects,
questions related to the sustainability of energy systems

Previous experience and knowledge in the field of energy
Geographic balance
Gender balance
The maximum number of participants for the 2017 Summer School is 40.


HOW TO APPLY FOR THE SUMMER SCHOOL?
Interested applicants are invited to submit their online application via the Energy Community website by 31 March 2017. As we sometimes have clarifying questions, early application would be high appreciated.

Prior to starting, please, login.
1. When you are logged in, the system will automatically generate your personal data.
2. When logged in, you can go back to the form at a later stage and the previously entered data is automatically reloaded. Otherwise, it is not saved.
3. Should you be selected for the Energy Community Summer School, you will also need the logins for registration purposes and for accessing restricted preparatory documents.
In case you do not yet have a login, please create one yourself by clicking the button below. After you press the SEND button, the logins will be sent to you in a separate email.

CREATE LOGIN
Prior to accessing the form, please, note, that the system might need a few moments to activate your account.
Should you have any technical difficulties, please contact recruitment@energy-community.org.


COORDINATOR for EC Summer School
Adrian JASIMI - adrian.jasimi@energy-community.org
ENERGY COMMUNITY SUMMER SCHOOL 2017 - FLYER
PROJECT PARTNERS:
The project is organized by the Energy Community Secretariat in cooperation with:
the Visegrad Fund,
Faculty of Electrical Engineering and Information Technologies, Skopje and
the Open Regional Fund for South-East Europe – Energy Efficiency (ORF-EE), which is financed by the German Federal Ministry for Economic Cooperation and Development, and implemented by the Deutsche Gesellschaft für Internationale Zusammenarbeit (GIZ).
Academic project partners:
Polis University, Tirana
Comenius University Bratislava
Jagiellonian University, Krakow
Masaryk University, Brno
REKK, Budapest